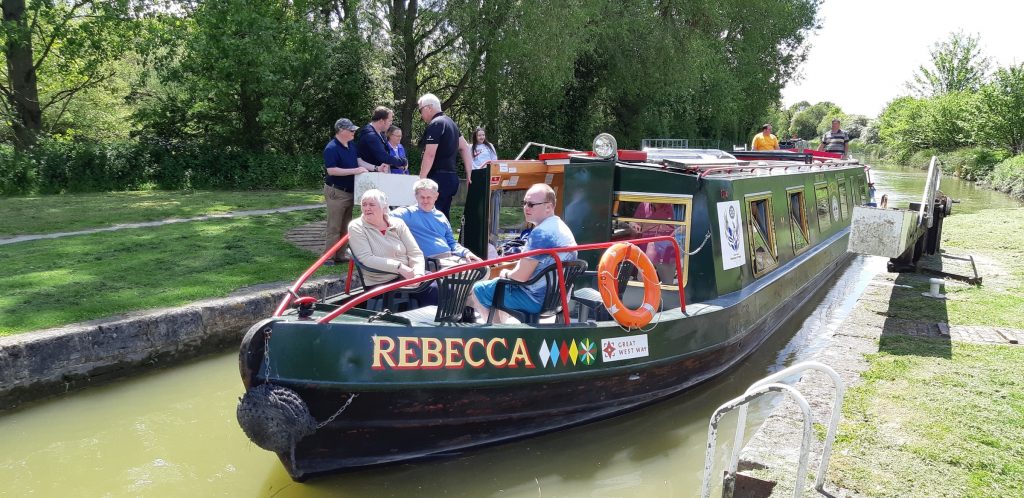 Self-drive holidays – Crewed day trips – Skippered youth weekends – Training
…or you could volunteer with us and help our many disabled, disadvantaged, elderly and youth guests enjoy time on our boats.
Boating for all
Since 1988 Bruce Boats of Great Bedwyn, near Marlborough in Wiltshire has been delivering great days out and self steer holidays for people who are less mobile, frequently wheel chair users, or who are disadvantaged, together with their families or friends. Four of our boats are wide beam, therefore roomy and are fully accessible with lifts fore and aft, full size domestic kitchen and fully accessible bathroom. We also have a traditional narrowboat for hire to community groups.
Bruce Boats are part of the Kennet and Avon Canal Trust, which is a charity.  We are run by volunteers.  Our income helps operate and maintain our fleet of boats and the facilities at Great Bedwyn Wharf.
Enjoy the canal experience
Our fleet of wide-beam canal boats provide lots of space for wheelchair users. Lifts enable easy access to the decks and once in the saloon and sleeping areas you will find a fully fitted kitchen, accessible showers and toilets, good accommodation and, if available, a hospital bed
You can learn to self-drive a boat for a week or more and explore the attractions of this famous canal. Families, care homes and Rotary groups often hire a fully crewed boat for a day trip with groups of up to 12.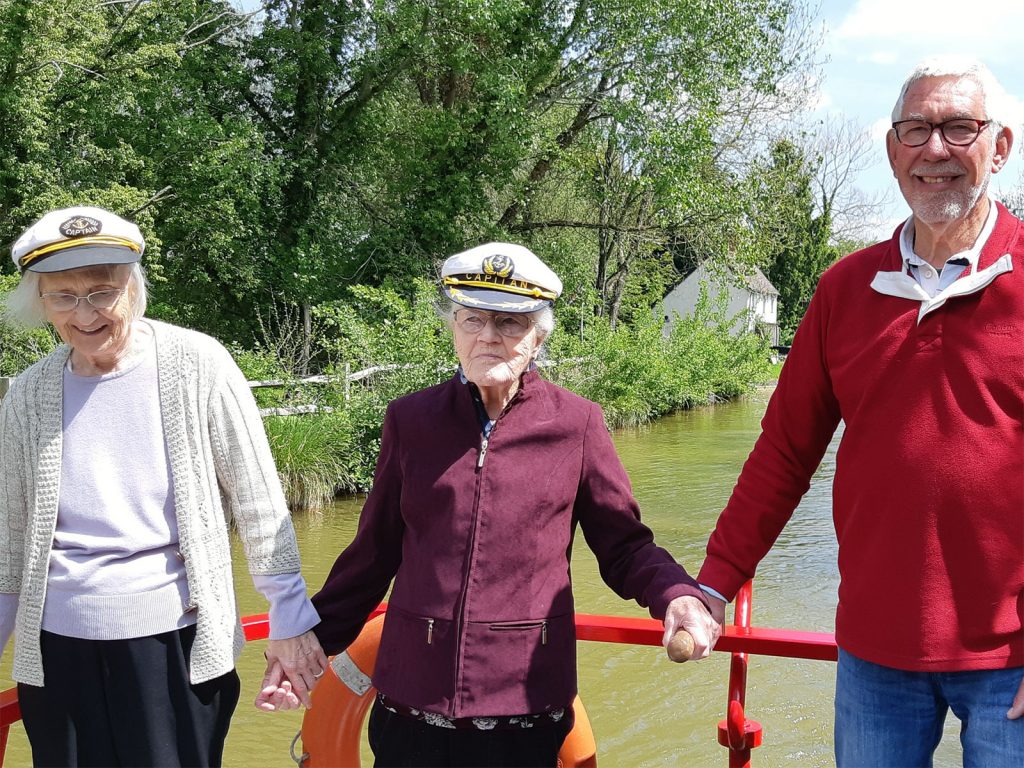 The day was made for us by the crew, who are an absolute credit to the Canal Trust. From the moment we arrived on board, we were made to feel welcome, and included in the day. We are not the quietest family, and with four loud youngsters things could have been "trying". But from the outset, your crew were wonderful with them talking to them, encouraging them to help out on board and on the lock procedures, but always with a careful eye on their safety. We found them personable, interesting, friendly and eager to give us a day to remember….and they certainly did that.
I wanted to send you an email after our trip last week, to say that we all thoroughly enjoyed the boat trip! It was one of the best weekends we've spent as a family together, and everyone really enjoyed the teamwork and bonding. We've all agreed that we'd like to do another one next year.
We were made to feel very welcome from the start and Peter was great. In fact, all the volunteers were lovely. We hired the Hannah from 29th June -6th July and she was great for us really clean and Mum especially appreciated the lift.
Also thank you for the helpful information you sent to us which helped us prepare for the holiday and my brothers found the training weekend a real help.
Just wanted to say a big thank you to everyone in the team and particularly Martin and Steve who were so helpful on Friday.
We had a great weekend and were all very impressed with not only the equipment but also the layout and thought that had gone into the design of "Diana" – everything worked brilliantly for Berkeley.
Your email reminded me that I meant to contact you and say how very much we enjoyed our weekend on the Diana. The weather was in our favour and everyone had a great time. The boat is so well equipped and spotlessly clean.
We had a wonderful holiday which was particularly good for my wheel chaired wife. The barge was even better than I had expected with lifts, space and disabled lavatory. It was also very easy to handle and steered well. The bow thruster made mooring so easy. Everything on the boat worked perfectly. Well done the volunteers.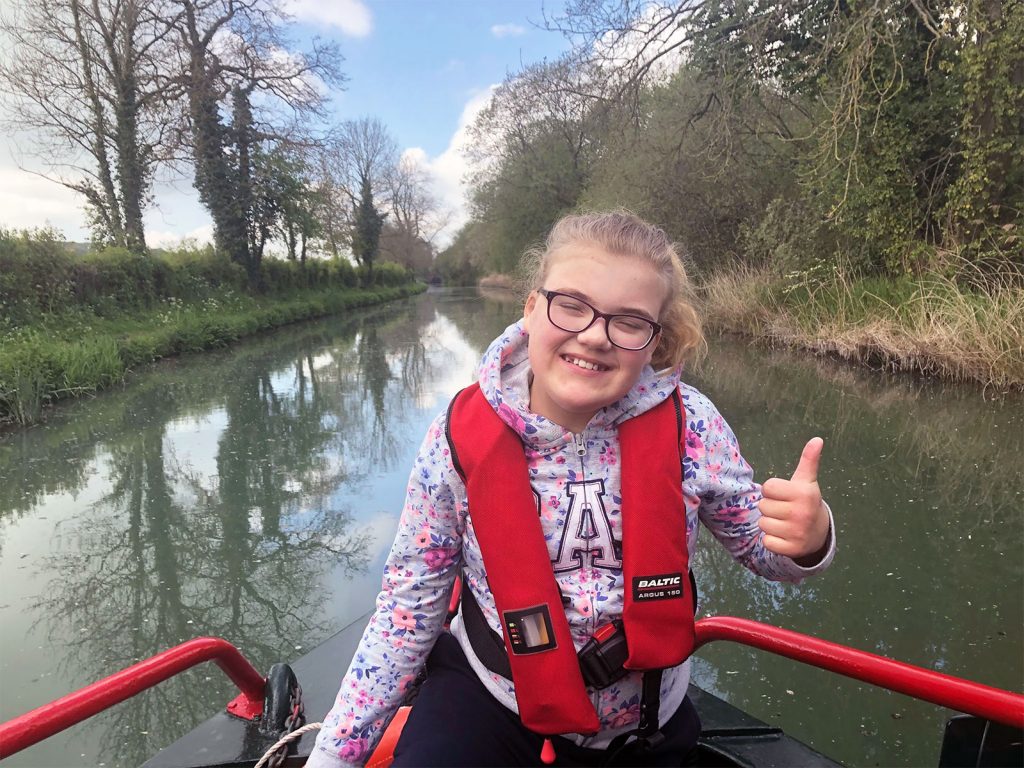 Welcome to Bruce Boats
We are a volunteer-run organisation with one of the largest fleets of wide-beam accessible boats in the UK. All volunteers are trained to professional standards and our skippers have all gained the Certificate in Community Boat Management, or are licensed Marine and Coastguard Agency Boatmasters.
The boats are maintained to the highest standards from our own base at Great Bedwyn in Wiltshire – right at the heart of the Kennet and Avon Canal.
Each boat has accessible wheelchair access, lifts, large shower areas and toilets. A full-sized kitchen is fully equipped with gas oven and microwave along with a fridge and good storage.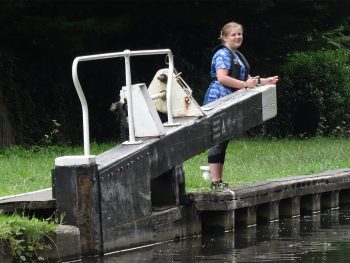 Our hirers have many different levels of boating experience and we have tailored our training options to meet this. Whether you are an experienced boater who would like a refresher or have never been on a canal boat before we pride ourselves in taking the time to make sure you have a safe and competent skipper by the time your group departs!
Discover why Bruce Boats are so popular…